TINY THEATRE – AUSTEN FOUND
AUSTEN FOUND – THE UNDISCOVERED MUSICALS OF JANE AUSTEN
Addicted to Darcy? Lost all Sense and Sensibility? Bonkers for Big Balls? Well put down your cross-stitching and join one of NZ's most experienced improv troupe, ConArtists, as they swoon, romp, and pianoforte their way through an entirely improvised Austenian Musical. Charming suitors, meddlesome mothers, tight breeches and surprisingly well-educated girls will all paint a vivid picture in song, dance and passionate hand-holding. It's been ten years since they first donned their bonnets, and to celebrate they are reviving their show that sold out the NZ International Comedy Festival and Adelaide Fringe Festival, for 4 nights only.
Visit Garnet Station's website to see what delicious treats you can dine on before the show.
And in an added Halloween twist, opening night will be "Austen Found – Zombie Ball" with added zombies. For one night only.
"Jane Austen would turn in her grave with delight!" – Rip It Up, Adelaide
"…an engaging entertainment full of fun and frivolity." – NZ Herald
BOOK TICKETS HERE and at 0800 BUYTIX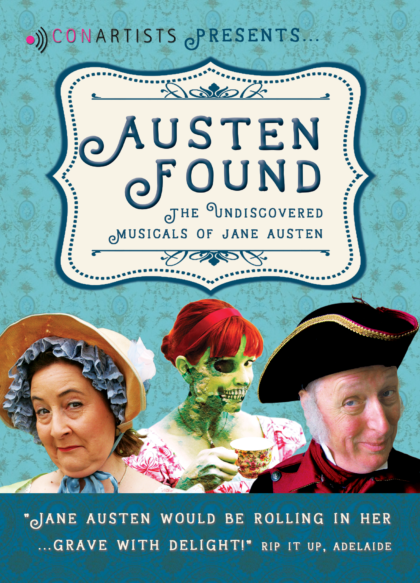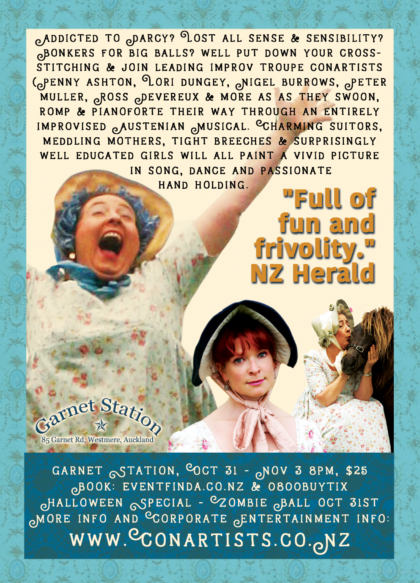 AUSTEN FOUND – THE HERALD THEATRE, AUCKLAND 2010