2016 Christmas Wishlist!
"The stockings were hung by the chimney with care"
We're in the home run to Christmas and here's a quick countdown of our Christmas Entertainment options. . . Give ConArtists a call today 307 3641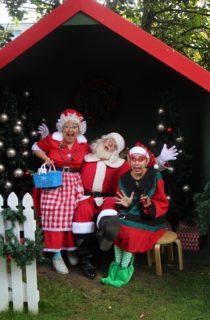 Christmas Madness
Have Mrs Claus (or Santa) and her truant elf, Stinky host your Christmas Breakfast, Lunch or Dinner.  Everyone gets to sit on Mrs. Claus' ample knee and receive a gift, even if you've been naughty. Together this comedy duo are fabulous ice breakers to get your guests into the party mode. Optional comedy add-ons like "decorate your workmate as a Christmas Tree challenge".


Married to the Mob
One of our most popular shows. The Linguini Family is desperate for their eldest daughter, to get married. The only problem is every time they get to the alter, the fiance' gets whacked.
By the end of the night some lucky person will say, "I do". Capiche?
Dress up in your Mafia best, prizes awarded. Tony, the wedding singer, is an additional entertianment add-on.

Yo-Ho-Ho and a Bottle of Fun
Why did the Pirate carry a bar of soap. . . so when he got swept overboard he could wash himself ashore! Arrrrr. Channel your inner Pirate with this Swashbuckling show which sees Santa being kidnapped and Christmas hijacked by Pirates. Write your own sea shanty, wear an eye-patch and get a tattoo. We'll have you Ho-Ho-Ho ing like you've drunk a barrel of rum.
Comedy with Character (Mix and Mingle)
Get your guests into the festive mood with our Fabulous Comedy Characters. Our actors playing the characters of your choice will meet and greet guests as they arrive, get them laughing, mingling and into the party mode. During the meal they'll conduct a little table fun and conclude the evening with a 30-minute improvised "Comedy Ha-Ha" show.
Murder on the Love Boat
Guests are welcomed aboard by Captain Stubid and the Entertainment Officer.  It's exciting and new as the Love Boat sets a course for a new adventure…and murder!  One of the guests becomes Roger, the Cabin Boy, some guests are First Class, some are Steerage, the Love Boat promises something for everyone.  Mysterious happenings  are afoot, or is that afloat? Guaranteed not to make you feel seasick, this is a dry land cruise with more twists and turns than a Shotover Jet.  Come aboard – we're expecting you!
Wishing you a Merry Christmas from all of us at ConArtists